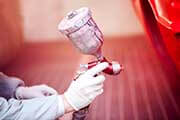 Why Should I Use A Spray Booth?
It can be heartbreaking to see a car with a dent or a scratch. Car spray booths can be an exceptional option for you if you want to make the entire painting process easier and cleaner. Using a spray booth can make the entire painting or you can say the entire repainting swift and precise. If these things have caught your interest then keep reading for a guide to spray booths
What exactly are spray booths?
Spray booths can be essentially defined as a semi-enclosed or an enclosed area that is utilized to paint fabricated items. The entire booth consists of a source of filtered air that is used to keep the atmosphere dust-free, an exhaust system to evaporate the solvents and a waterfall backdrop that is necessary to prevent overspray. There are many benefits of using a spray booth but the prime advantage is the time that you save while using a spray booth.
Benefits of using a spray booth:
Using a spray booth can give you a designated and clean painting and can help you to do the work more precisely in a safer environment. In addition within a spray booth, the controlled environment makes it simpler to apply paint to the products. The clean painting environment ensures that the hazardous materials are controlled and you get uniformity while painting. No one can dissent from the fact that after paint settles, gradually a layer of dust and debris gets deposited over the paint, making it look uneven or pitted. If you want to increase the longevity of the paint on your products then spray paint booths are an excellent option.
Why should you buy spray booths?
For one, the spray booth makes your work a lot easier and faster giving you instant results. The spray booth can help to keep the entire process safe by providing a controlled environment. 
What are the additional perks?
There are high brightness LED panels inside that will help you to see things more clearly. Spray booths that can help you to paint more efficiently with larger precision. There are also humidity control systems that can help the paint to dry faster. You can also save materials and consumables as spray painting is all about saving paint. Using a spray booth can help you to avoid imperfections and repaintings. 
To find out more about our spray booths, feel free to get in touch.